Allison Loconto, Sociology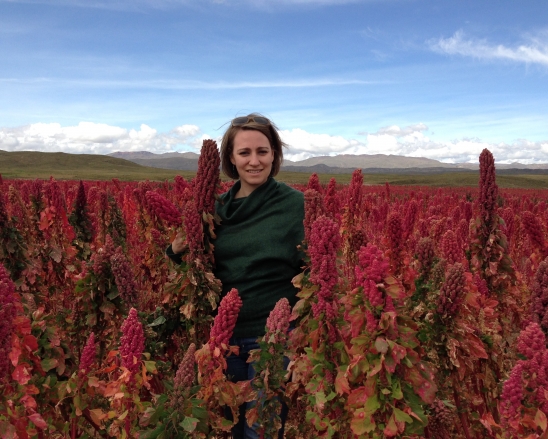 Allison Loconto graduated from Michigan State University (MSU) in 2010 with a doctorate in sociology (focusing on food, environment, agriculture, science, and technology) and a graduate specialization in gender, justice and environmental change. While at MSU, Dr. Loconto was a Foreign Language and Area Studies (FLAS) Fellow studying Kiswahili through the Center for Advanced Study of International Development and the Center for Gender in Global Context. Dr. Loconto used Kiswahili to conduct interviews for her dissertation research on how the values of sustainability, responsibility, and gender equity were enacted in certified Tanzanian tea value chains. She has published the results of this research in Science, Technology & Human Values, The Journal of Cleaner Production, and Feminist Economics.
After graduation, Dr. Loconto joined the French National Institute for Agronomic Research in Paris, France, first as a postdoctoral fellow and then as a permanent researcher. Allison's research remains focused on questions of standards, as well as the institutionalization of the values of sustainability and responsibility within different transitions to sustainable agriculture, primarily in Africa. She has been exploring these questions both within international-level dialogues on standard setting as well as local-level implementation.
Beginning in 2013, Dr. Loconto began a joint research project with the Food and Agriculture Organization of the United Nations in Rome, Italy to study institutional innovations that link sustainable practices with markets through a participatory research approach to working with innovators in 14 different countries around the world[1]. The case studies explain how the innovators strategically mobilized people and organizations through network relationships in order to repair or replace institutions—thus creating new guidelines for sustainable production and consumption and new partnership opportunities for applying them. In June 2015, Dr. Loconto led the organization of a researcher-practitioner workshop in Bogotá, Colombia that brought together all of the project participants to discuss the results and propose policy recommendations that can support the emergence and development of these types of initiatives.
---
[1] Benin, Bolivia, Colombia, Ecuador, India, Indonesia, Iran, Namibia, Nigeria, Philippines, Tanzania, Thailand, Trinidad & Tobago, Uganda.